Mazda has developed the unique "i-stop" engine start-stop technology, which prevents engine idling by leveraging the principles of the direct fuel-injection engine. The i-stop system provides a major improvement in fuel economy and fast restarting without sacrificing driving comfort.
i-stop is installed in the all-new Mazda Axela (known overseas as the new Mazda3), and will be widely adopted in future models as a core fuel-economy technology.
---

Mazda has announced its plan for an approximately 30% improvement in fuel economy (in comparison with the 2008 level) for all its vehicles sold worldwide by 2015. For technologies to contribute to reduced CO2 emissions in all Mazda vehicles, they must be usable in different types of vehicle and have the potential for future development.
The i-stop system is a unique environmental technology developed by Mazda on the basis of these principles. Mazda is establishing i-stop as an important base technology for future improvements in fuel economy.
---

When a driver stops at a traffic light or intersection, the car's engine automatically switches off, and restarts when the driver wants to move. This start-stop system prevents engine idling.
Idling stop systems generally use the starter motor to restart the engine. The i-stop system, however, uses a "combustion start method" to restart the engine. It injects fuel directly into a cylinder of the stopped engine and ignites it to force the piston down. Because the combustion start method requires the pistons to be halted in the optimum position when the engine is stopped, this system requires technology capable of accurately detecting and controlling piston positions.
The starter motor is operated to assist engine restarting, but using mainly combustion power for restarting requires less time and reduces power consumption.
This unique technology achieves an engine restart time of 0.35 seconds, the best in its class (automatic transmission vehicles, based on in-house measurements). As the engine starts, the brake is immediately released and the car can move again quickly. Due to the rapid restart, this system does not inconvenience the driver, which is vital in situations such as turning across an oncoming lane of traffic at a traffic light.
The i-stop system does not require any extra work by the driver, and achieves an approximately 10% improvement in fuel economy (Axela class, Japanese 10-15 mode test cycle)*1 by precisely stopping the engine for short periods. It also complies with the fuel economy standard of +25% under the new Green Tax system that came into force in April 2009.
*1

Including the direct injection effect and other factors, the all-new Mazda Axela has approximately 15% improved fuel economy compared with the previous models.
Operating principles of i-stop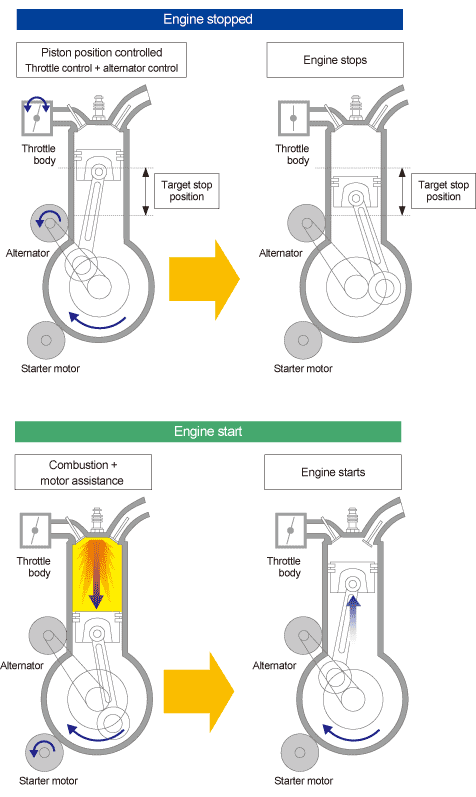 ---

One of the main reasons that idling stop systems have failed to gain popularity, despite the knowledge that they improve fuel consumption, is that they take time to restart the engine, and they also produce unwanted noise and vibration during stopping and starting.
The i-stop system not only enables immediate restarts, but also ensures a comfortable ride with noise and vibration during engine stopping and starting reduced to an absolute minimum. The system is also designed to ensure safety and a comfortable drive feel.
To set optimum conditions for the i-stop system in any driving conditions, during its development Mazda engineers used actual vehicles to carry out trials in five cities overseas and eight in Japan. They have created a completely innovative idling stop system that both helps protect the environment and maintains a natural ride while prioritizing vehicle safety, comfort, and theft prevention.
---


Kenichiro Saruwatari
Program Manager
Program Management Division
The i-stop system is a unique Mazda technology that is highly eco-friendly without detracting in any way from the "Zoom-Zoom" joy of driving. The entire development team worked with concerted effort and determination on i-stop's development, with the conviction that it is indispensable to a sustainable future for both the global environment and the road-traffic environment.
The greatest challenge was producing a system that would provide benefits without sacrificing driving comfort. Rigorous driving tests and system adjustments took up the most of our development time as we pursued a driving sensation that can satisfy any user. We are confident that the new i-stop system will give drivers a natural feel never before provided by idling stop systems, and we hope as many customers as possible will use this new system.
The development of i-stop not only involved engineers working in engine and vehicle development, but also required close collaboration with production and testing engineers during development for mass production. Therefore, I feel that this challenge has also made us stronger as an organization. Mazda will continue its commitment to technological progress, with the aim of making wide-ranging contributions to environmental preservation.
---