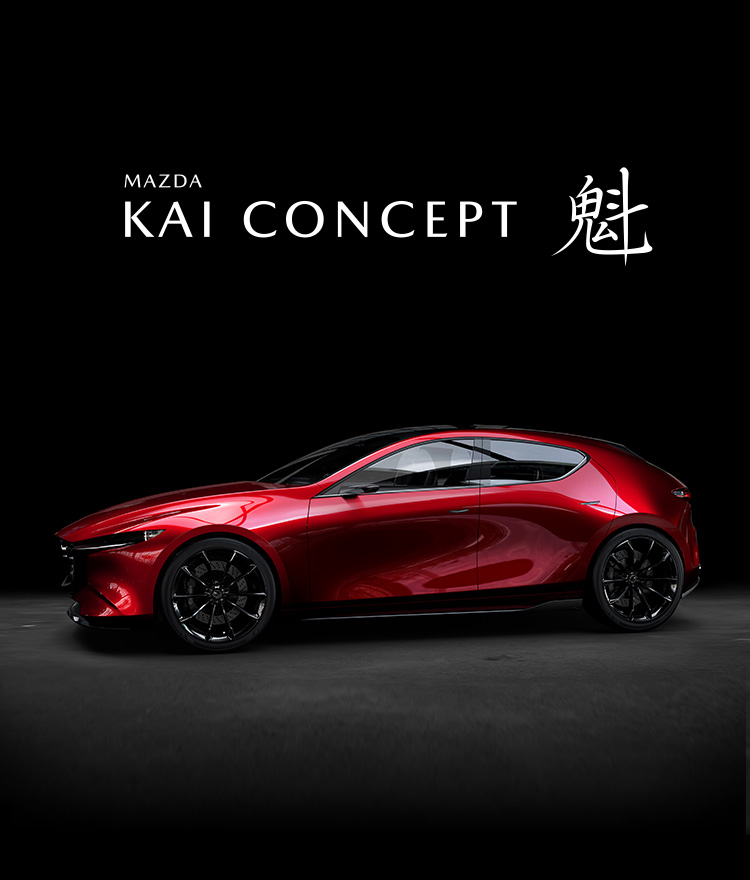 MAZDA KAI CONCEPT
The Mazda Kai Concept compact hatchback makes its global debut at the Tokyo Motor Show. This inspired combination of breakthrough Mazda technologies and head-turning Kodo design epitomizes the ideal vehicle powered by an internal combustion engine.
The groundbreaking next-generation Skyactiv-X gasoline engine is mated with a next-generation Skyactiv-Vehicle Architecture platform- the latest iteration of Mazda's human-centered development philosophy- to achieve unprecedented refinement in driving performance.
Styling is characterized by clean, honed beauty free of extraneous elements, creating a strong and solid image. Mazda's next-generation design aims to artistically embody Japanese aesthetics, condensing them into the Kai Concept's compact, ideal hatchback.
Creating allure that stirs the instincts – a new challenge in hatchback design
People worldwide love hatchbacks for the great value they offer, including features such as highly practical packaging. Mazda set its sights on bringing the brand's unique value to the universal presence and tradition of the hatchback.
Specifically, Mazda decided to take on a new hatchback challenge through the application of evolved Kodo design.
The goal was to create an alluring hatchback that differs from all that have come before to win hearts and stir people's instincts.
The Mazda Kai Concept is born of this wish as a model that, standing unfettered by conventional concepts or stereotypes, represents the ideal hatchback form in its simplicity and beauty.
A cabin environment that hones the Jinba-ittai connection between car and driver
The interior design establishes a connection between driver and car with a natural-feeling environment that gently embraces cabin occupants without feeling overly restrictive.
This embodiment of the "less is more" ideal further refines the Jinba-ittai experience Mazda is constantly working to achieve.
MAZDA KAI CONCEPT

GALLERY