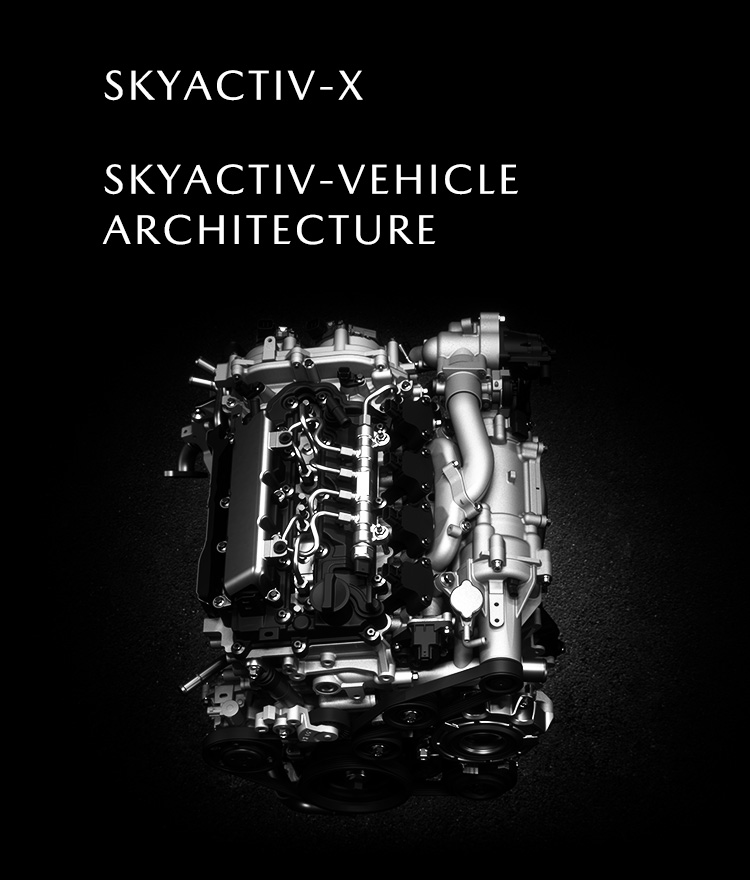 NEXT-GENERATION
SKYACTIV-X GASOLINE ENGINE
The next-generation Skyactiv-X gasoline engine is a revolutionary powerplant that combines the free-revving characteristics of a gasoline engine with the fuel efficiency, torque and fast initial response of a diesel unit.
Thanks to its proprietary Spark Controlled Compression Ignition (SPCCI) technology, Skyactiv-X is set to become the world's first* commercial gasoline engine to use compression ignition to realize an unprecedented level of sharp engine response and torqueful acceleration combined with higher fuel efficiency and cleaner emissions than ever before.
At the same time as pursuing this ideal internal combustion engine, Mazda also developed a new platform, next-generation Skyactiv-Vehicle Architecture, with increased focus on our human-centered design philosophy to maximize the inherent ability of the human body. Together, these groundbreaking next-generation technologies synergistically support Mazda's world-renowned Jinba-ittai driving experience.
* As of August 2017, according to in-house investigation.
SPCCI
Spark Controlled Compression Ignition ("SPCCI") is Mazda's proprietary combustion method that enables a seamless transition between compression ignition and spark ignition.
NEXT-GENERATION
SKYACTIV-VEHICLE ARCHITECTURE PLATFORM
Mazda's Skyactiv-Vehicle Architecture was developed with an intensified focus on its human-centered design philosophy to maximize the human body's inherent ability to balance itself. It offers more comfortable and less tiring driving and enables all occupants to respond quickly to environmental changes. With the human body easily able to balance itself in response to driving inputs, the new vehicle architecture provides responsive driving and the ultimate Jinba-ittai driving feel.
To realize these advantages, the development team reviewed every aspect of the car platform from the viewpoint of comprehensive vehicle optimization. The resulting innovations include redesigned seats that keep the pelvis upright to maintain the spine's natural "S" curve, a body with multi-directional ring structures to transmit inputs without delay, a chassis structure with each part interacting to smoothly control energy transfer to the sprung mass, and NVH performance meticulously optimized based on vibration energy characteristics and the mechanisms by which humans perceive sound.