Mazda Introduces The New Bongo Van/Truck "The Model That Helps You Make Light Work of It"
- With best-in-class loading capacity, high utility and outstanding safety -
Mazda Motor Corporation announced today the introduction of the completely redesigned Bongo Van/Truck, which immediately go on sale through Mazda, Mazda Anfini and Mazda Autozam dealerships throughout Japan. The 4WD diesel version will be on sale from July 15.
Mazda brand personality is "Stylish", "Insightful", and "Spirited". To embody this brand personality, we adopted three elements of product attributes: "Distinctive Design", "Exceptional Functionality", and "Responsive Handling and Performance. The new Bongo Van/Truck, as "the vehicle that helps you make light work of it," epitomizes Mazda brand by realizing a high level of "Exceptional Functionality."
The new Bongo Van/Truck has a cab-over body type with the engine located under the front seat and offers outstanding maneuverability. At the same time, the highly efficient packaging of the body type - with a "compact folding seat" in the Van and newly designed cargo box in the Truck - provides the Bongo with the best-in-class of cargo space.
The interior reveals a variety of unique customer-oriented features including an easy-to-use instrument panel and enhanced equipment/functions which ease cargo handling and provide unrivaled comfort and convenience. In addition, the new Bongo has excellent visibility and maneuverability making it safe in commercial uses such as on narrow roads and construction sites. Outstanding safety is further realized through an energy-absorbing body frame.
These attributes combine to make the new Bongo an ideal commercial vehicle and one which meets the key customer needs of loading capacity, utility and safety.
The total monthly sales target of the Van and Truck is a 2,000 units.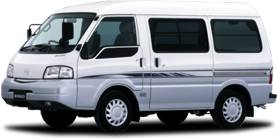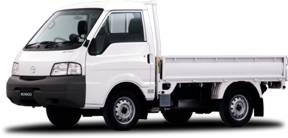 Through careful attention to customer needs and wants, the new Bongo Van and Truck have been developed as functional vehicles well suited to use by businesspeople in urban environments. They display the distinct Mazda's brand personality and are based on product development guidelines that incorporate an in-depth understanding of customer expectations of commercial vehicles in this class. In developing the new Bongo Van and Truck Mazda emphasized the following four aspects:
1. Exceptional Functionality
-
Outstanding cargo carrying capabilities and maneuverability thanks to highly efficient packaging.
-
Versatile functions for an efficient and comfortable driving and working environment.
2. Responsive Handling and Performance
-
Safe, smooth driving, even on narrow roads.
3. Distinctive Design
-
Distinctive styling that emphasizes functionality, safety and harmony with surroundings.
4. Superior Safety
-
Blending high-level function and safety which are important for commercial use.
Features of the New Bongo Van and Truck
1.Outstanding Functionality
1) Outstanding Cargo Carrying Capabilities and Maneuverability Thanks to Highly Efficient Packaging
| | |
| --- | --- |
| - | The Bongo Van has an overall length of 4,285 mm (GL Super: 4,370 mm), width of 1,630 mm (4WD models: 1,690 mm) and height of 1,850 mm (2WD models with low deck and standard roof). |
| - | The Bongo Truck has an overall length of 4,335 mm (standard body), width of 1,690 mm and height of 1,880 mm (2WD gasoline engine models with iron deck). The wheel base are 2,220 mm for both vans and trucks. This short wheel base results in excellent maneuverability, and the minimum turning radius of 4.3 m for 2WD van models is the smallest in its class. |
| - | The new Bongo Van and Truck have cab-over body form. The Van has newly designed "compact folding seats" and the Truck has newly designed redesigned cargo. As a result, both van and truck have the most cargo space available for this class of vehicle. |
Vans

| | |
| --- | --- |
| - | The width of the cargo area is 1,480 mm and the length is the longest in its class at 2,375 mm (3-passenger, GL and GL Super). |
| - | The 3/6-passenger DX incorporates innovative compact folding seats. In addition to adopting a folding system that allows the second row of seats to be folded in two stages, the space over the engine deck behind the front seats can thereby also be used for storage. It reduces unused space in the cargo area to a minimum. |
| - | The high roof that was previously available only on the 2WD models is also now available on the 4WD models. The high roof features the height of 1,985 mm and the height of the cargo area is 1,345 mm, which is 120 mm higher than the standard roof. It eases to carry hauling bulky cargo. |

Trucks

| | |
| --- | --- |
| - | A long body with 2,735 mm of cargo box is also now available, and makes it possible to carry lumber and other long cargo. |
| - | The dimensions of the standard body cargo box have been extended to a length of 2,470 mm, width of 1,600 mm and height of 340 mm. |
2) Versatile Functions for an Efficient and Comfortable Driving/Working Environment
< Comfortable Driver's Space >

| | |
| --- | --- |
| - | Frequently used dials such as the air conditioner and audio have been located in the center of the instrument panel and the switches are enlarged offering greater ease of operation. |
| - | A column shift automatic transmission is provided, and provides more legroom for the front seats. It also eases the movement between the driver and passenger seats made easier. |
< Improved Convenience >

| | |
| --- | --- |
| - | The instrument panel features a large, A4-sized storage space capable of holding a clipboard with delivery documents and a dual card holder for separately storing gas station cards and motorway tickets. The driver's door pocket able to hold A4-size road maps and a large glove compartment in front of the passenger seat are also provided for further storage space. |
| - | The van's cargo area is equipped with floor boards and metal runners for smooth loading and unloading of cargo (GL Super) and a rope rack (GL Super, GL) to facilitate cargo fastening |
| - | The truck's cargo box is equipped with retractable load rest stoppers and rope racks for easier cargo carrying. |
2. Responsive Handling and Performance
1) Safe, Smooth Driving Even on Narrow Roads
| | |
| --- | --- |
| - | Excellent visibility and easy-to-turn-around realizes smooth driving even on narrow roads. |
| - | Well-tuned two types of engines improve excellent balance of performance and clean the exhaust emission. |
1.8-liter
In-line 4
SOHC engine
(Type F8-E)
The EGI (Electronic Gasoline Injection) system offers precise control of fuel injection volume and timing. Along with an improved air intake system, it provides maximum output of 90 PS/5,000 rpm and maximum torque of 13.8 kg-m/2,500 rpm. In addition, emission levels of HC, NOx and other pollutants have been reduced and meet in compliance with new Japanese emissions standards enacted in 1998.
2-liter
In-line 4
Diesel engine
(Type R2)
The newly developed electronic fuel injection pump and the improved fuel chamber produce a maximum output of 79 PS/4,250 rpm and maximum torque of 14.1 kg-m/2,000 rpm, while lowering emission levels of NOx and soot in compliance with Japanese emissions standards enacted in 1997 and 1998.
| | |
| --- | --- |
| - | The new Bongo line also employs a newly developed electronically-controlled, 4-speed automatic transmission equipped with a hold mode. This new transmission allows precise control of gear change timing and clutch pressure, making it possible to significantly reduce shock during gear changes and resulting in smoother shifting. |
| - | The 4-speed automatic transmission is employed for 4WD truck models. |
| - | The part-time 4WD system is equipped. For improved ease of operation, this system is equipped a remote free wheel function which switches 4WD to 2WD by engine off. |
2) Stable Handling and a Comfortable Ride
| | |
| --- | --- |
| - | For detailed modifications that improve handling stability, the front of the new Bongo line employs a double-wishbone suspension system including the use of a compression rod that suppresses front-end dipping during braking while also reducing uneven front tyre wear in 2WD models. Leaf spring suspension is used in the rear of the vehicle. |
| - | Large-diameter, bench-rated disc brakes measuring 265 mm are used for the front wheels, while dual mode brakes provided with a dual servo system and leading function are used for the rear wheels. |
| - | The new Bongo line features LSPV (Load Sensing Proportioning Valve), which adjusts braking force by detecting the load applied to the rear wheels. A dual channel hydraulic circuit in which the brake lines are connected diagonally in the form of a cross is used for enhanced reliability. |
3. Distinctive Design
Unique Styling that Emphasizes Functionality, Safety, and Harmony with Surroundings
| | |
| --- | --- |
| - | Based on the Mazda design theme of "Contrast in Harmony," the new Bongo incorporates an distinctive styling that emphasizes functionality, safety and harmony with surrounding. The large bumpers and halogen front headlamps express a sense of safety and dependability as part of their high-quality appearance. The large windshield and side windows ensure excellent visibility for the driver and create a sharp, neat impression. |
| - | The controls for the air conditioner and audio system are located in the center of the instrument panel for ease of operation. Molded door trim and molded ceiling panels also provide a classy appearance. |
4. Superior Safety
Blending High-Level Function and Safety Which Are Important for Commercial Use
< Superb Visibility >
Because this type of commercial vehicles will mainly be used on narrow roads, the new Bongo provides excellent visibility, and improves active safety. The cab-over design and flat nose provide superb visibility for the front. In addition, the front doors feature large safety windows to ensure an excellent view of low-lying objects along the side of the vehicle.

< Safe Body Design >
The new Bongo vehicles employs the safety body with newly developed impact-absorbing frame and meets the 50 km front collision safety standard. It only extends the overall length by 175 mm even with providing front nose, and provides the enhanced safety and excellent maneuverability. In addition, side impact bars equipped on the doors provide enhanced protection in the event of a side collision.

< Solid Safety Features >
SRS airbag system for the front driver and passenger seat is provided either as an option or as standard equipment depending on the model. Front seatbelts equipped with load limiters are also available as option or as standard equipment depending on the model.
Suggested Retail Prices (consumption tax not included):
| | |
| --- | --- |
| < VANS > | (In thousand yen) |
Drive
Engine
Grade
Cargo
Space
Roof
/ Door
Seating
Capacity
Trans-
mission
Tokyo
Hiroshima
Osaka
Sendai
Nagoya
Yamaguchi
Sapporo
Fukuoka
2WD
1.8-liter
Gasoline
CD
Low-floor
Standard /
4 door
3
5MT
1,081
1,101
1,096
1,151
1,121
1.8-liter
Gasoline
DX
Low-floor
Standard /
4 door
3-6
5MT
1,147
1,167
1,162
1,217
1,187
2.2-liter
Diesel
DX
Low-floor
Standard /
4 door
3-6
5MT
1,287
1,307
1,302
1,380
1,327
2.2-liter
Diesel
GL
Low-floor
Standard /
4 door
3-6
4EC-AT
1,515
1,535
1,530
1,608
1,555
2.2-liter
Diesel
GL-
Super
Low-floor
High-roof /
4 door
2-5
4EC-AT
1,906
1,906
1,926
1,999
1,946
1.8-liter
Gasoline
DX
Wide & Low-
floor
Standard /
5 door
3-6
5MT
1,217
1,237
1,232
1,287
1,257
2.2-liter
Diesel
DX
Wide & Low-
floor
Standard /
4 door
3-6
5MT
1,322
1,342
1,337
1,415
1,362
4WD
1.8-liter
Gasoline
DX
Low-floor
Standard /
4 door
3-6
5MT
1,373
1,393
1,388
1,443
1,413
2.2-liter
Diesel
DX
Low-floor
Standard /
4 door
3-6
5MT
1,546
1,566
1,561
1,616
1,586
2.2-liter
Diesel
DX
Low-floor
High-roof /
4 door
3-6
5MT
1,564
1,584
1,579
1,634
1,604
2.2-liter
Diesel
GL-
Super
Low-floor
High-roof /
4 door
2-5
4EC-AT
2,175
2,195
2,190
2,245
2,215
| | |
| --- | --- |
| * | The optional price of cold package for 2WD models with diesel engine is 23,000 yen. |
| | The price of the 4WD models with diesel engine and all gasoline engine models includes cold package. (Cold package is standard on all the models for Sapporo.) |
| | |
| --- | --- |
| < TRUCKS > | (In thousand yen) |
Drive
Engine
Grade
Bed
/ Rear tire
Body
type
Load
Capacity
Trans-
mission
Tokyo
Hiroshima
Osaka
Sendai
Nagoya
Yamaguchi
Sapporo
Fukuoka
2WD
1.8-liter
Gasoline
DX
Wide & Low
/ Single
Standard
0.85
5MT
1,019
1,039
1,034
1,089
1,059
1.8-liter
Gasoline
DX
Wide & Low
/ Single
Standard
0.85
5MT
1,163
1,183
1,178
1,256
1,203
2.2-liter
Diesel
DX
Wide & Low
/ Double
Standard
0.85
5MT
1,037
1,057
1,052
1,107
1,077
2.2-liter
Diesel
DX
Wide & Low
/ Double
Standard
0.85
5MT
1,181
1,201
1,196
1,274
1,221
2.2-liter
Diesel
GL
Wide & Low
/ Double
Standard
0.85
5MT
1,286
1,306
1,301
1,379
1,379
1.8-liter
Gasoline
DX
Wide & Low
/ Double
Standard
0.85
4EC-AT
1,271
1,291
1,286
1,364
1,311
2.2-liter
Diesel
DX
Wide & Low
/ Double
Long
1.0
5MT
1,210
1,230
1,225
1,303
1,250
4WD
1.8-liter
Gasoline
DX
Wide & Low
/ Single
Standard
0.85
5MT
1,273
1,293
1,288
1,343
1,313
2.2-liter
Diesel
DX
Wide & Low
/ Double
Standard
1.0
5MT
1,446
1,466
1,461
1,539
1,486
2.2-liter
Diesel
DX
Wide & Low
/ Double
Standard
1.0
4EC-AT
1,536
1,556
1,551
1,629
1,576
| | |
| --- | --- |
| * | The optional price of cold package for the diesel engine models is 23,000 yen |
| | The price of the gasoline engine and all gasoline engine models includes cold package. (Cold package is standard on all the models for Sapporo) |