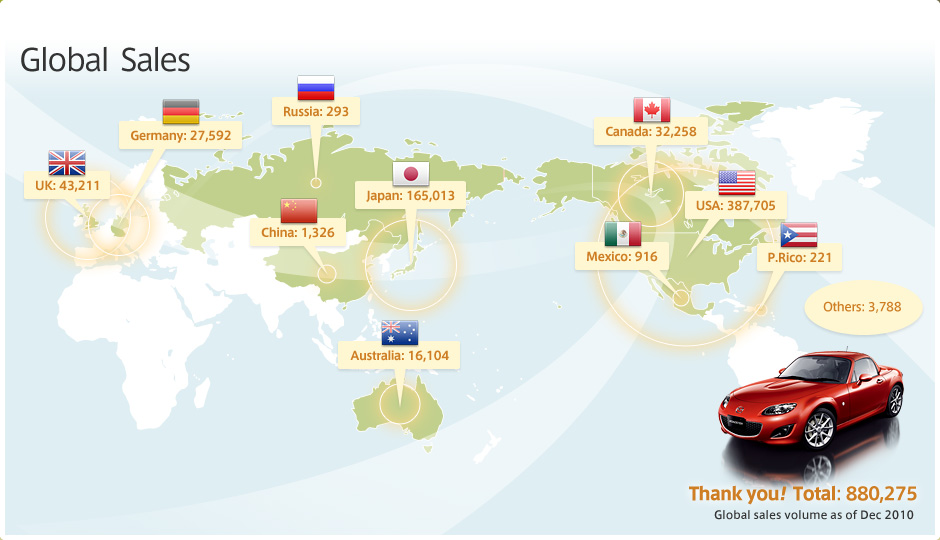 Mazda MX-5 Program manager
Nobuhiro Yamamoto
Yamamoto-san joined Mazda in 1973 and began his career in rotary engine development and motor sports. He moved to program management and worked on the vehicle development programs for the RX-7, Millenia, second-generation MX-5/Roadster, and the Tribute. In 2002, he became Deputy Program Manager for development of the third-generation MX-5/Roadster.He was appointed Program Manager for sports cars in 2007.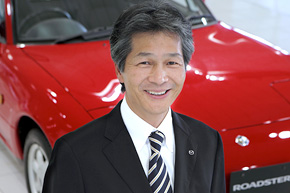 - How do you feel personally now that MX-5 production has reached 900,000 units?
First, I would like to share this achievement with all the MX-5 fans and all the Mazda fans all over the world. And I want to thank all our customers from the bottom of my heart. Just last year, we celebrated Mazda's 90th anniversary. It's wonderful that we can celebrate 900,000 units at around the same time. I'm just really happy.
- What would you like to say to all the MX-5 owners and fans around the world?
I often think about the many MX-5 owners that treat their car as if it were a member of the family. Whenever I attend fan club events, I meet people who treasure their MX-5 like their own partner. I feel truly grateful that the MX-5 creates this kind of personal connection. We have always considered the MX-5 to be more than a simple car, and we believe it will bring happiness to everyone who owns one and rides in one. I think our customers share this feeling. Above all, I would like to say to owners that I hope you keep on driving, and keep on enjoying your roadster.
Roadster 20th Anniversary Meet
- It has taken 21 years for sales to reach 900,000 units, yet demand has remained steady. What do you think is the secret behind this?
I think the standout feature of the MX-5 is its ability to make drivers happy. It gives more "smiles per mile" because it can be enjoyed in so many ways: every model since the original offers the same Jinba Ittai (rider and horse as one) handling; there are a huge range of customization options; there are many fan club events; and there is the joy of simply going for a drive with a friend. I think the MX-5's attraction comes from its ability to make and grow connections. All kinds of people form a deep connection with the car, people also form connections with each other through the car, and then these connections grow into a wider community. I believe that this is the real secret behind the MX-5's enduring success. Going forward, I hope to maintain this appeal so that the MX-5 will continue to bring people together. I treasure all the relationships I have formed with other MX-5 drivers, and I want to share this happiness with more and more people.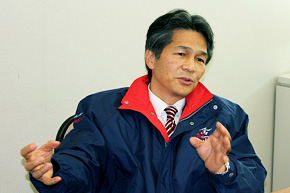 - To date, what is your strongest memory from your work on the MX-5?
I would say development of the third-generation model. I have so many memories, but if I had to choose just one, it would be the moment when the third-generation won the 2005-2006 Japan Car of the Year award. It was the first time in 23 years that a Mazda had been named Car of the Year in Japan, so it remains a particularly vivid memory for me. During the development phase, we decided to set a very simple target for the entire team so that everyone would clearly understand what we were aiming at. In fact, the target we set was, "Win Car of the Year." Whenever we came up against a technical obstacle or got stuck, we would always return to this target. We would say to each other "We won't get Car of the Year if we continue doing it like this. We've got to find a way to solve this problem so that we can deliver on our promise!" It really helped to energize us.

This target also influenced our senior management. Over the course of development, we held over 30 test drives for the executives. Whenever they found something that was not entirely satisfactory, they would encourage us by saying, "You told me we would win the award. Do you really think we can win it with the car like this?" The desire to achieve our target spread through everyone involved and it helped us to motivate each other. It was very uplifting.

Because we had all worked so hard to win the Car of the Year award, when it was announced, so many memories came flooding into my mind that my eyes filled with tears. I was even more emotional when I returned to headquarters and celebrated with the rest of the team.

At the presentation ceremony, the chairman of the selection committee said, "The MX-5's Jinba Ittai concept, the idea of unity between rider and horse, reflects the unity throughout Mazda. The MX-5 is the first open top recipient of Japan's Car of the Year award. It is also significant that it was born in Hiroshima, the city of peace." His comments left a strong impression on me.
Powerplant frame
- What production challenges did you face due to the MX-5 being a sports car?
The MX-5 is a sports car, but that does not mean it has a significantly different structure from a standard car. That is one of the secrets of this car. If we added expensive materials that are not used for other Mazda models, or designed it around special manufacturing equipment, it would prevent us from achieving one of the MX-5's core concepts, which is its affordability. So instead, we mobilized all our engineering resources to make it as easy to build as possible. This became one of our main goals. To support the production engineers, we focused our energy on realizing the best-possible packaging and layout.

Mazda's plants are based on mixed model production, which enables various models to be built on the same line. The MX-5 is produced on the same line as the Mazda2, and this presented us with some considerable restrictions. It was a huge challenge for the production engineering department to work within this limited flexibility. One example is a part called the "powerplant frame" which maintains rigidity between the transmission and differential. It is unique to Mazda's sports cars and is essential for realizing our direct feel. However, it does require very complicated assembly. The production engineering department had to struggle to meet the required level of precision while reducing the physical burden for the assembly workers. I cannot thank them enough for their hard work.

- As we advance toward the MX-5's next milestone of either one million units or its 30th anniversary, what kind of presence would you like the MX-5 to have in the Mazda lineup?
One million units and the 30th anniversary are definitely both major milestones, but I haven't really thought about them. For me, the MX-5 is eternal. I hope that the MX-5 will, in one form or another, stay around for as long as cars exist in this world.

I think the MX-5 is the model that represents Mazda the most. Mazda's brand message, Zoom-Zoom, describes Mazda vehicles that look inviting to drive, are fun to drive, and make you want to drive them again. This is the unique value that Mazda provides its customers, and the MX-5 is the model that embodies that message in the most implicit form. The MX-5 is a reflection of Mazda's DNA, and the hallmark of the Mazda brand. That is why the MX-5 is so treasured by Mazda, and why we work so hard to ensure the MX-5 is the pinnacle of Zoom-Zoom.
- As program manager, you are in control of the MX-5's future. How does that feel?
I feel that I have some very large shoes to fill. The previous two program managers, Toshihiko Hirai and Takao Kijima, are both very well-known. Hirai-san was the first program manager; he brought the MX-5 into existence with his strong and lasting belief in the car's potential. And then Kijima-san carried over the concept of Jinba-Ittai, or rider and horse as one, and evolved it to a new level. It is only natural that I feel a tremendous pressure to live up to their legacy. However, saying that, I also have a strong desire to eventually achieve my own unique accomplishments. In order to do that, I believe that we need to further refine the essential appeal of the MX-5 - its fun-to-drive character. And at the same time, I must keep reminding myself that I must work hard to improve my own abilities.

It has been 21 years since the MX-5 was born. In that time, social trends have changed and requirements for automobiles have become diverse. We must respond to these changes. Sometimes I feel overwhelmed by the flood of information. It adds a degree of complexity and makes it difficult to identify exactly how we should carry the MX-5 forward. At these times, I feel that I can rely on MX-5 owners all over the world who drive and care about their cars; on the members of the media who add their thoughts about the MX-5; and on my counterparts in other companies who share similar ambitions and challenges. I feel strongly that communication and cooperation with them is very important.

I feel that my duty is to further refine the unique values of the MX-5 by determining exactly what people desire and then by identifying what needs to be changed and what needs to stay the same. This kind of vehicle development is what I want to do and also what I feel I must do.