Following the huge success of the R360 Coupe, on February 23, 1962, Mazda brought out a completely new micro-mini named after a carol (a joyful song). This was the Carol 360, a car that Mazda developed alongside the prototype Mazda 700 that was unveiled at the 1961 Tokyo Motor Show. The Carol 360 had enough cabin space to accommodate four adults comfortably, and differed in a variety of other ways from the conventional micro-mini. Of particular note was the styling of the rear roof; the roofline contained a steep drop-off known as the "cliff cut." Despite an overall length of only 3 meters (within the micro-mini regulation length of the period), the design assured cabin space for four adults and gave the Carol 360 a unique, upscale presence.

High quality and diversity secured a dominant market share
The Carol 360 also mechanically surpassed other micro-minis of the period. Its newly-developed power plant was a 358cc all-aluminum water-cooled inline four-cylinder four-stroke engine, which assured levels of quietness befitting a passenger car. Also featured was a four-wheel independent suspension system with trailing arms front and rear. These and other mechanical innovations earned the Carol 360 praise for being a step up from regular micro-minis. Following the launch of the deluxe version in May 1962, Mazda introduced a facelift model a year later (September 1963) with an engine power upgrade from 18 to 20ps. A four-door model also entered the lineup, which was a first for the micro-mini class. These developments gave Mazda an overwhelming share of the micro-mini market — 67% in 1962, 62% in 1963 and 56% in 1964.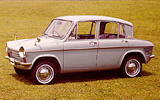 The millionth Mazda car to be produced was the Carol
The Carol 600, launched in November 1962, is a car that shouldn't be forgotten in the history of Mazda's development. Based on the prototype Mazda 700, the Carol 600, which came with a 586cc all-aluminum water-cooled inline four-cylinder four-stroke engine, left Mazda with invaluable experience that was to translate into development of the upcoming Familia series. At this time, Mazda's car production total topped one million. To commemorate the occasion, on March 9, 1963, the company's millionth car to come off the production line was a Carol 600 painted in metallic gold. To put this production record in perspective, it had taken Mazda 29 years and 4 months to reach its half-millionth unit, but only a further 2 years and 2 months to record its millionth. Mazda had clearly entered a period of rapid growth.