On hearing the word "Bongo" many people, even those unfamiliar with Mazda, will immediately bring to mind a box-style vehicle. The Bongo — the first cab-over one-box van with the engine located under the floor, which became synonymous with the one-box car — was launched over 40 years ago.
The first Bongo — an ultra-low-floor multi-purpose vehicle with a water-cooled 800cc engine in the rear — was launched in 1966. The vehicle made its market debut variously as a truck, van and coach. The coach-style Bongo shared the van's body, but added three rows of seats to accommodated eight occupants , and drove much like a wagon. The major feature of the first-generation Bongo was its ultra-low floor. The floor was 460mm above ground level in the truck and 450mm in the van, which is about as low as the average adult's knee height. The lightweight cab-over van was a pioneer of its kind, and became synonymous with one-box cars from then on.
The Bongo Wide-Low creates a boom
The second-generation Bongo went on sale in 1977. All versions had small-diameter double wheels and a low floor. The flat floor which contained the wheel housings had an enormous impact on the market. The Bongo Wide-Low was the first truck, and the Bongo Van was the first van, to have this type of floor. Humorous commercials featuring the celebrity, Shingo Yamashiro, helped make the Bongo series an instant hit. The Bongo sold 5,000 units a month and became the main selling model for Mazda dealers in Japan. The success of the Bongo Wide-Low made it a fixture in the low-floor vehicle market of this class thereafter.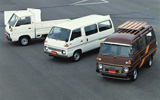 The second-generation Bongo
Ambitious expansion of the model lineup
The third-generation Bongo appeared in 1983, and at the time a long wheelbase version known as the Bongo Brawny was introduced. Although it was actually in the small vehicle class, Bongo Brawny was able to carry 1 - 1.5 ton loads and had many model variations to suit a wide range of market needs.
Though the third-generation Bongo had a long model lifetime of 16 years, the lineup was complemented during that period with 4WD and automatic transmission models as well as the introduction of an electric-powered version known as the Bongo EV. Mazda also began OEM supplies of Bongo trucks and vans.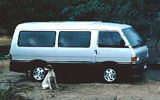 Bongo — the evolution continues
The fourth-generation Bongo came out in 1999. Amid an increase in semi-cab over body style*1 vehicles due to rising societal demands for environmental and safety performance, the Bongo kept to its traditional cab-over style. Mazda piled on the research into adverse layout conditions and overcame them. A high-safety cabin was eventually assured, along with a spacious cargo area. In 2003, a version powered by a newly developed clean diesel engine with DPF*2 was introduced. As of 2007, the Bongo with further enhanced environmental efficiency as well as an OEM version continue to take top share in the light commercial vehicle segment.

*1 Cab-over style with short hood. It is claimed that safety is increased to the extent that the hood is present.
*2 Diesel Particulate Filter